Hot days are here. In London, it has been very hot for many weeks and the weather could get hotter and remain so till late October.
Cold desserts such as ice-cream , ice pops and ice lollies could be eaten at any time of the year , but Summer and cold desserts go hand-in-hand.
So , over here , it is the season for enjoying fewer cups of the traditional English "cuppa tea" and opting for more cold drinks and desserts.
The colder and sweeter they are , the better!
All the frozen foods sections of the major supermrkets are well stocked with varieties of these summer desserts, all year round ; but for some people, the fun is in not just the buying and eating of them, but also in the making of them.
Fruity drinks, smoothies and fruit ice-pops are ideal for weight watchers and vegetarians . Ice cream and lollies are popular and enjoyed world-wide ; especially by children and by people who are sweet-toothed and do not see how it is "disastrous" to add on a few pounds ,occassionally!
I held a small luncheon for family and friends over the weekend and made desserts; fruity drinks and different flavours of ice-cream for the occassion.
Here are some time-tested basic recipes which I used. Try them and you will love them.
For best results , you would need an ice-cream maker , a good Juicer and Smoothie maker.
Home made Ice pops

1. Super Berry Smoothie Pops
Make this smoothie recipe for mouthwateringly delicious (and good-for-you) berry smoothies, pour it into your favorite ice pop mold, and freeze.
2.Pop strawberries ,ice cubes, two bananas , double cream , two kiwi fruits and pineapple chunks, flavoured with coconut cream and pineapple juice into a smoothie maker and blend. Delicious!
3. Real Fruit Popsicles
Take advantage of local fruit and honey at your farmer's market, and whip up a batch of these tasty ice pops.
4. Organic Watermelon Ice Pops
Watermelon. In ice pop form. I can't imagine anything more cooling on a hot summer day.
5. Honeydew Lime Ice Pops
The natural sweetness of honeydew melon, combined with the tartness of limes. This recipe is definitely worth a try.
6. Funky Homemade Popsicles
If you're looking for something a little on the wild side, try one of these unique ice pop recipes: chunky pineapple-chile, crunchy peanut butter – banana, or watermelon – lime – cilantro.
7. Organic Veggie Ice Pops
Having a hard time getting your kids to eat their veggies? Try blending them up and serving them in ice pop form!
8. Organic Yogurt Pops
Organic yogurt, honey, and berries. It just doesn't get better than this.
You can easily make these pops a dozen ways just by changing up the combination of berries and other fruit you use.
9. Maple Mocha Pops
Combine heavy cream, half and half, coffee, and chocolate . Mix , flavour and freeze. I added some grated orange zest to give it some " zing"!
10. Coconut Pineapple Pops
This is a unique, tropical flavor combination that is both refreshing and creamy thanks to the inclusion of fresh pineapple and pineapple juice and instant vanilla pudding mix. To keep this as healthy as possible, look for organic instant pudding mixes. They can be a bit harder to find, but there are a couple available.
Vanilla Ice cream
You could use this Vanilla ice-cream recipe as a basic recipe ; then colour and flavour it to make chocolate,lemon or ripple(marble) ice cream.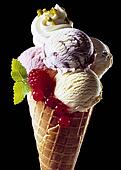 Ingredients
2 vanilla pods
500ml/16fl oz double cream (see tip)
70g/3oz sugar
3 egg yolks
Preparation method
1. Slit the vanilla pod down its length with a small sharp knife and scoop out as many of the tiny black seeds as you can into the cream mixture. Cut the pod into three and drop it into the pan.
2. Heat the cream and milk over a low heat, stirring occasionally, until it almost boils - you'll see a few bubbles at the edge. Take off the heat and set aside for 30 minutes so the vanilla can infuse.
3. Put the egg yolks into a bowl with the rest of the sugar and beat with an electric hand beater for about 2 minutes until the mixture has thickened, is paler in colour and falls in thick ribbons when you lift the beaters. Using a measuring jug, scoop out about 125ml/4fl oz of the cream mixture and beat into the egg yolks to slacken them. Reheat the cream until it just comes to the boil, take off the heat and stir in the egg yolk mixture.
4. Return the pan to a low heat and cook, stirring all the time with a wooden spoon, for 8-10 minutes, until the custard is thick enough to coat the back of the spoon. Watch that it doesn't boil - as soon as you see any bubbles about to burst to the surface, it should be thick enough, so take the pan off the heat so the mixture doesn't curdle.
5. Pour the custard into a heatproof bowl, then sit it in a bigger bowl one third full of iced water to cool (this takes about 20 minutes). Stir occasionally to stop a skin forming. Put the bowl of custard in the fridge for 3-4 hours, preferably overnight, so it gets really cold.
6.Get the ice cream machine running, scoop out the vanilla pod pieces, then slowly pour in the cold custard. Leave it to churn for 10-30 minutes (depending on your machine). When it stops, it is probably too soft to eat, so spoon into a plastic container, cover with cling film, then a lid, and freeze for a minimum of 3 hours.
Go imaginative and spice up your ice cream into varied designs like these.
Have a pleasant summer!